Such a beautiful and inspiration conversation with Brett Weiss, founder and director of the Weiss Scholarship Foundation – providing education to children in Kenya. Please join us as we discuss:
Brett's insights on creating access to better education
his philosophies on poverty and its impact on children's education globally
what he means by "Just give them a hug . . . and the rest will be easy"
the mission of the Weiss Scholarship Foundation
and so much more!
Welcome to The Healing Place Podcast! I am your host, Teri Wellbrock. You can listen in on Pandora, iTunes, Blubrry, Spotify, iHeartRadio, Stitcher, Deezer, Google Podcasts, Amazon Music, and more, or directly on my website at www.teriwellbrock.com/podcasts/. You can also catch soundbites of our insightful interview on YouTube.
Bio:
"Brett Weiss spent twenty-three years in the software business, four years running a social services organization and eighteen years as a high school social studies teacher. In 2009 he made a volunteer trip to Kenya and spent most of three weeks in the tiny village of Dago. Little did he know then that these kind and hard- working people would become a major part of his life. In 2012 he created the Weiss Scholarship Foundation. In 2017 Brett "retired" so he could devote full time to this work.

Brett created the Weiss Scholarship Foundation to give HOPE in a village where there was little hope. Six trips later 79 children from this village have been awarded scholarships. Our program sends children to high school and then to either university or vocational school. So far, we have 13 students at vocational schools and 9 attending university. This is a village where few have ever gone to high school. A key rule of our foundation is all money is divided equally between boys and girls. We do much more than just pay school fees. We have staff on the ground that make sure our students are fully supported so they can be successful.

Brett wrote a book about this work called, "Just Give Them A Hug…And The Rest Is Easy". He looks forward to sharing this great story with you. We believe that we can create a world where every child gets a great education.

This foundation has grown a lot since Brett last spoke to the club and looks forward to sharing the story with you. We have built a great business model and are now looking to scale the model so we can help many more children.

Brett and his wife Christine are the parents of two and grandparents of two."
** Visit Brett's website: https://weissscholarshipfoundation.org/To donate: People can go to the website (www.weissscholarshipfoundation.org) and click on GIVE to donate. You can also donate via Venmo: @weisssf Cash App: $weisssf or mail a check to the address 415 W. Jackson Avenue | Naperville, IL 60540. To purchase a copy of Brett's book, "Just Give Them A Hug…And The Rest Will Be Easy" (all royalties go to the foundation): https://www.amazon.com/s?k=just+give+them+a+hug&ref=nb_sb_noss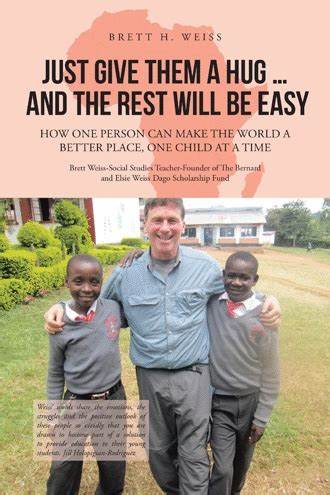 Peace,
Teri
Hope for Healing Newsletter: https://us18.campaign-archive.com/?u=8265f971343b0f411b871aba1&id=1352bd63df
Book Launch Team: https://www.facebook.com/groups/unicornshadows