Having a C-PTSD diagnosis myself due to my complex trauma exposure during the first twenty-two years of my life, I know the craving for relief from overwhelming symptoms. I find such comfort even in just touching the softness of an animal's fur. When I was a child I used to create a stuffed animal fortress around me before falling asleep. I found comfort in holding them close to me or reaching out to touch them when afraid.
There was Lenny the Lion (a royal blue lion with a cherry red main), Bobby Bear (clad in his Pampers diaper I took from a babysitting job in our apartment complex), shorts and a t-shirt, along with Billy Bear (also wearing a diaper covered up by his baby blue overalls). I had Greenie and Brownie, two worn little creatures who possessed broken music boxes for insides, one being green and the other brown, surprisingly. Sammy the Snake was always tucked along the small space left where my mattress didn't quite meet the wall. Just in case anything might try to sneak up on me in that crevice. I still have Lenny, Bobby, and Billy in a bag in my basement, tucked among some other treasures. There were a few others, whose names I now forget, yet they stood guard each night, protecting me from the boogie man. Or in my case, a drunken mother standing in the shadows, watching me sleep, her blank stare concealing murderous ponderings of sending me to "be with Jesus."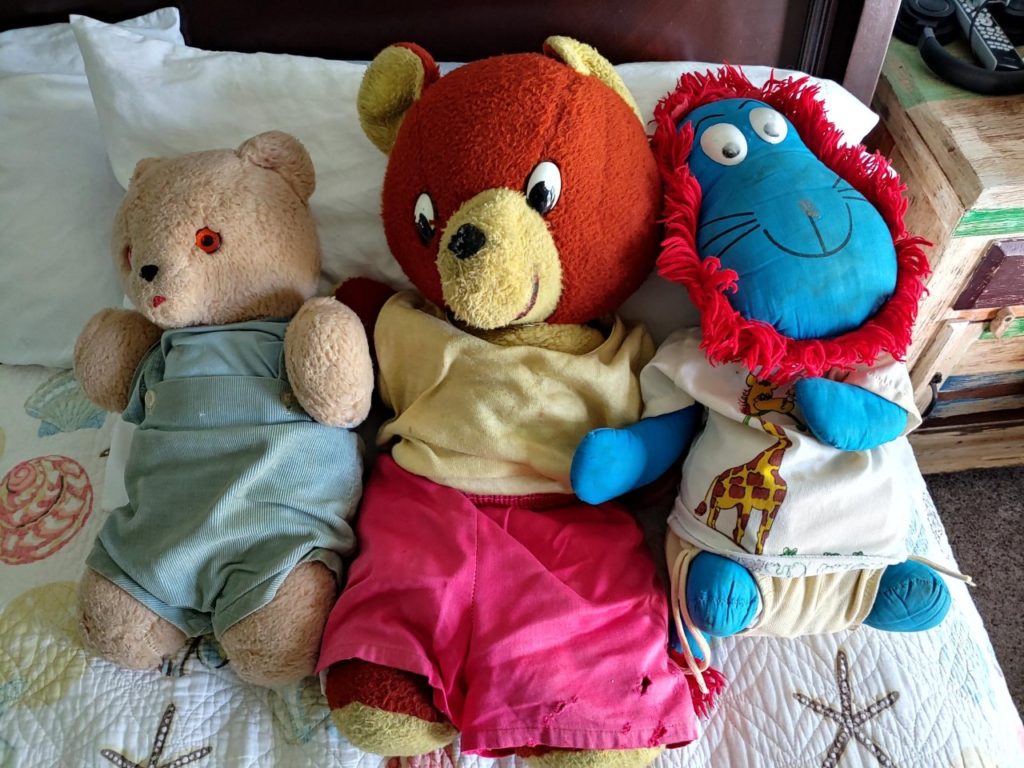 Jump ahead a few decades and I no longer sleep in a stuffed-animal fortress. Instead it's a dog snuggle-fest. Max, our Schnoodle, thinks he's a bad-ass in his little thirteen pound body. Except at bedtime he wants to sleep on my pillow and bury his nose into my neck. Sometimes he places his little paw on my shoulder, just to make sure I'm safe. Personally, I think he likes the reassurance, but don't let him know I'm on to him! Sammie, our Labradoodle, curls up as close as possible somewhere behind my legs. If she could, she'd sleep on my pillow, too. She thinks she's a lap dog trapped in a fifty-five pound body.
Sammie recently passed her two year re-test for her therapy dog registration. She was amazing. Truly amazing. A perfect score as she followed my every command (or as I like to refer to them . . . suggestion). She watched me for visual cues and listened for words of encouragement.
That's my girl.
You're my favorite.
I'm so proud of you.
Way to go, Sam-Sam!
Nice job, Sammie.
You're a rock star.
Following is a list of seven benefits I find as I work with this sweet pup (whose 5th birthday we celebrated yesterday! Happy Birthday, Sammie Doodle!):
Pure Joy
Sometimes I feel selfish for walking away from our therapy dog sessions with my heart overflowing with joy, a smile radiating from my face AND heart. I love watching this dog turn a child's tears into giggles. Sammie has a thing for kids. Her tail wags every time she sees one. Whether we are walking the halls at a school or the trails at a nature preserve. She wants to meet them all and offer a snuggle. As a result, her tail thumps in canine happiness, and I just can't help but grin.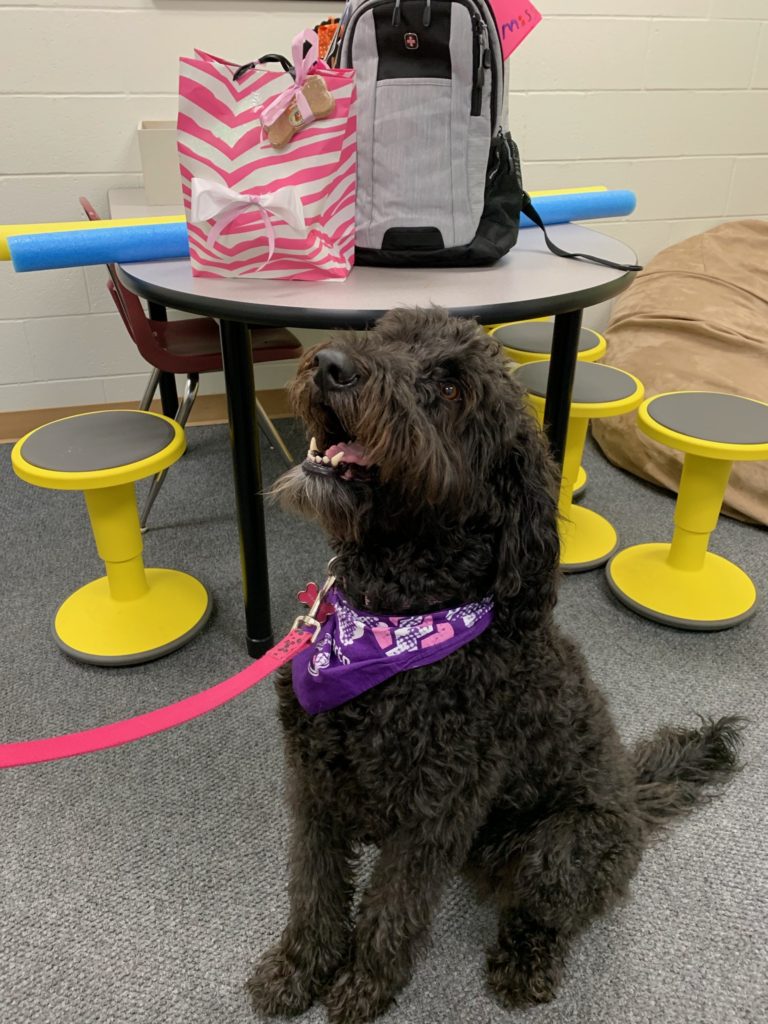 We were visiting a school last year when the counselor asked if it would be okay if Sammie had an unscheduled visit from a child who was having a difficult morning. Of course he's welcome to visit with Sammie! Immediately, upon this nine-year-old boy entering the room, his face stained from tears, Sammie moved toward him. He found his way onto a bean bag chair and Sammie was instantly next to him. Her pointy elbows tickling his belly as she climbed closer to love him.
That's her secret.
Love.
Pure, simple, unconditional love.
And that kind of pure love can only result in pure joy.
Find out more about working with Pet Partners here and clicking the book link below:
Self-Healing
I love it that I absorb healing benefits while doing healing work as a therapy dog team with Sammie. Whether she is comforting a child experiencing anxiety symptoms, offering solace to a room full of teachers headed to a co-worker's funeral, or just greeting kids in the hallways on testing day, she is happy to be there radiating comfort and compassion. I usually step back and witness, avoiding my human interference in a wordless exchange. A hand reaching down to pet Sam's head, her snout pressing up against a leg, even just a pause in time as she locks eyes with someone needing reassurance.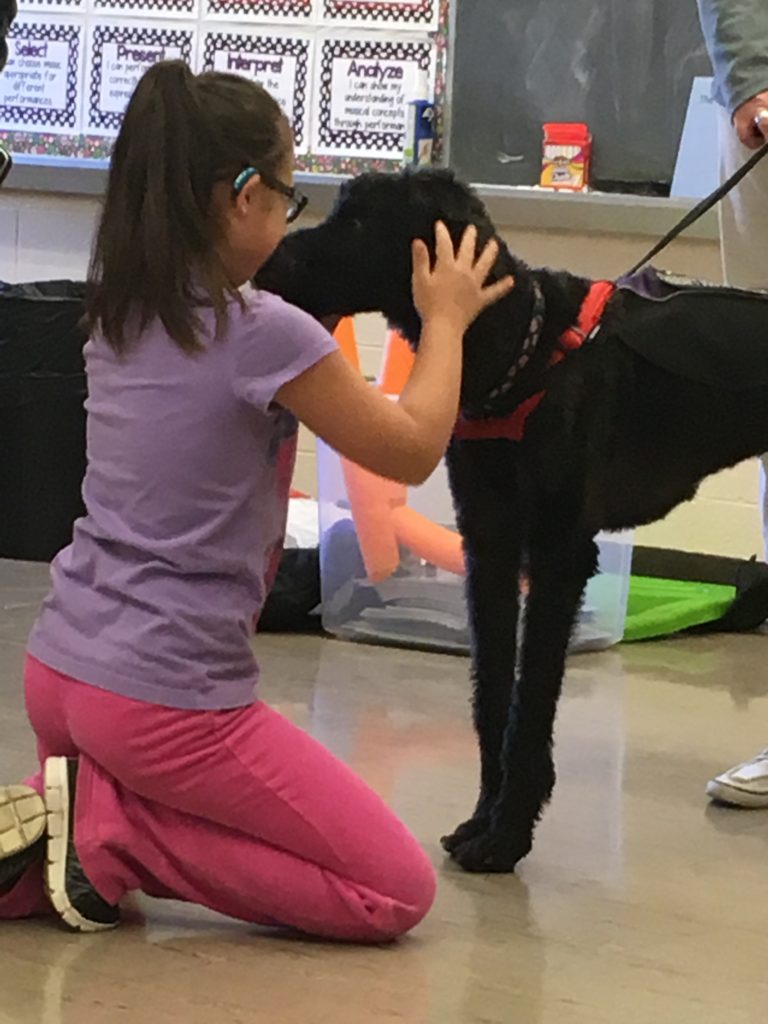 I watch all of this and allow it to radiate into my being, as well. There is a magic that happens. An energy exchange so powerful I can't help but pick up on it. And, again, my heart smiles as a result. Perhaps I sense it because I've opened myself up to healing. I seek it, I welcome it, I treasure it. Therefore, when I see it and feel it, I know it's happening and let it in.
A Course in Compassion
This amazing therapy dog has taught me so much about compassion. Whether a child is crying or a teacher is nervous, if a kiddo is expressing his needs through defiant behavior or a grieving adult is standing quiet and still in a corner, or maybe there's the high end-of-the-school-year energy pulsating through a classroom making for loud voices and stressed staff, regardless, this dog treats them all the same. All she knows is there is a human, usually a smaller and younger one, that just might be interested in a hug.
She listens without interrupting or offering her input.
She offers a snuggle but isn't offended if she's turned away. She merely moves on to the next soul needing love.
She'll stand in quiet solidarity with anyone needing silence, perhaps leaning against a leg just as a little added support.
She won't nip or bite or growl if hurt. A woman accidentally stepped on Sammie's tail and foot during a job fair. She happened to be wearing a heavy plastic boot to stabilize an injured leg. Sammie yelped in fear. But then wagged her tail at the woman. As if to apologize for startling the lady with her yelp for help. A child once stuck his finger into Sammie's ear. Sammie shook her head and moved away as I gently reminded the child to respect Sammie's body and use gentle touches. But, all the while, Sammie stayed calm.
She is just there to love. To comfort. To listen. To allow. Compassion at its finest.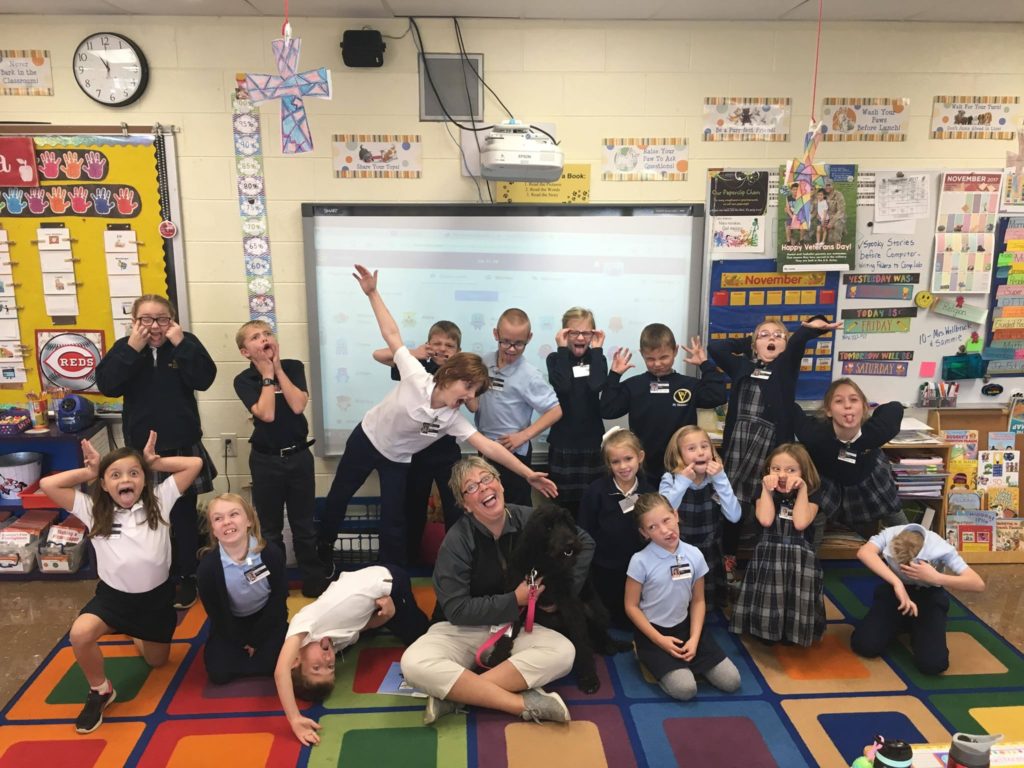 Learned Patience
One of Sammie's best qualities is patience. I witness it first-hand when we hike. I'm in my fifties and my knees and ankles just aren't as nimble as they used to be. Therefore, when we hit the steep treks, as I slowly make my way down the rocky trails with protruding roots and crooked rock paths, this sweet dog will pause and look back at me as we descend steep grades. I never taught her this. It just . . . happened. She is the essence of patience.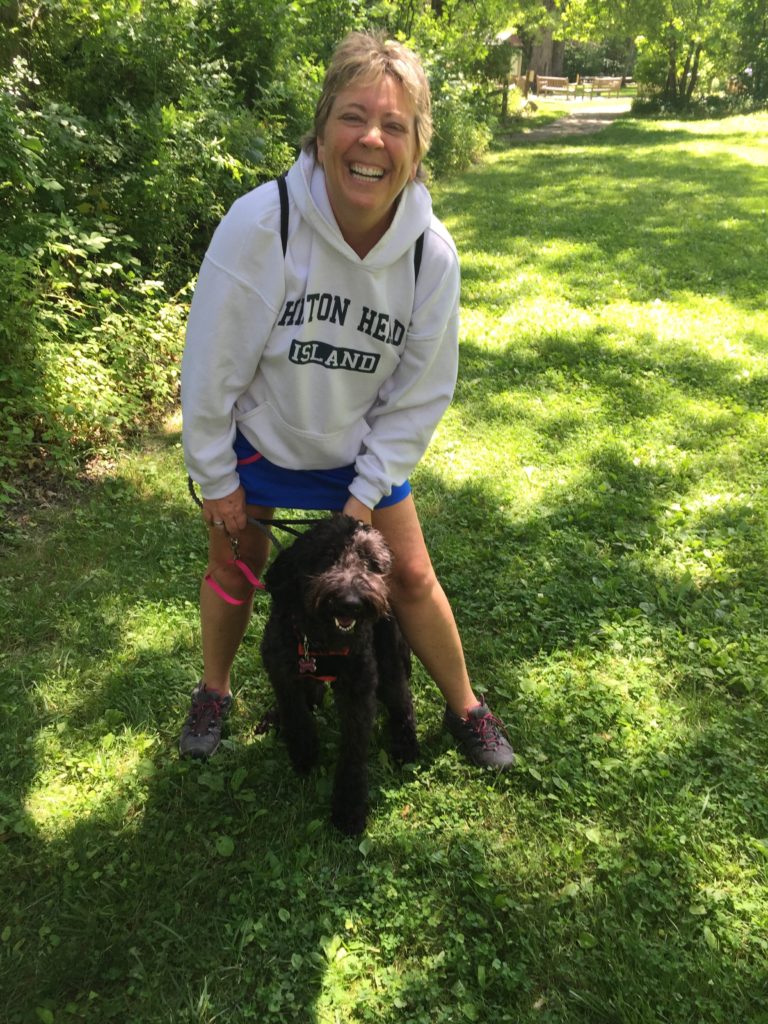 I witness this same gift being shared with children. She teaches them through modeling as she patiently listens as they talk her ear off, or patiently wags her tail as they rub the same spot on her head for fifteen minutes.
As I sit here typing this, Sammie is sitting in my office, staring at the closed door. She hears our little dog, Max, playing with our daughter. I look at her and she nods at me, as if to say, "When you have a minute, could you let me out." I can't help but smile. No barks. No whining. No digging at the door. Just a patient stare. And a wag of the tail as I open the door.
Develop Friendships
As we walk the trails at our local nature center, Sammie approaches all dogs with a wagging tail. She looks to me for guidance. I usually remind her to leave it as we keep moving forward. Every now and then, however, the hiker coming towards us will ask if Sammie is friendly and if we can stop to allow a doggy meet-n-greet. I always agree. Which makes Sammie one happy girl. The dogs do their usual dog-thing when it comes to meeting another dog. And Sammie walks away knowing she has made a new friend. I will say, though, that there is one particular breed of dog that cannot stand Sammie. Every time we encounter this breed, they always try to eat her. Without fail. Yet, she still wants to be friends.
I've studied this. In regards to my own interactions with people. Do I approach with a "wagging tail" and welcoming aura? If so, most people will respond with reciprocatory warmth. And if they are one of those rare few who do not, I'll just walk away . . . wagging my tail behind me.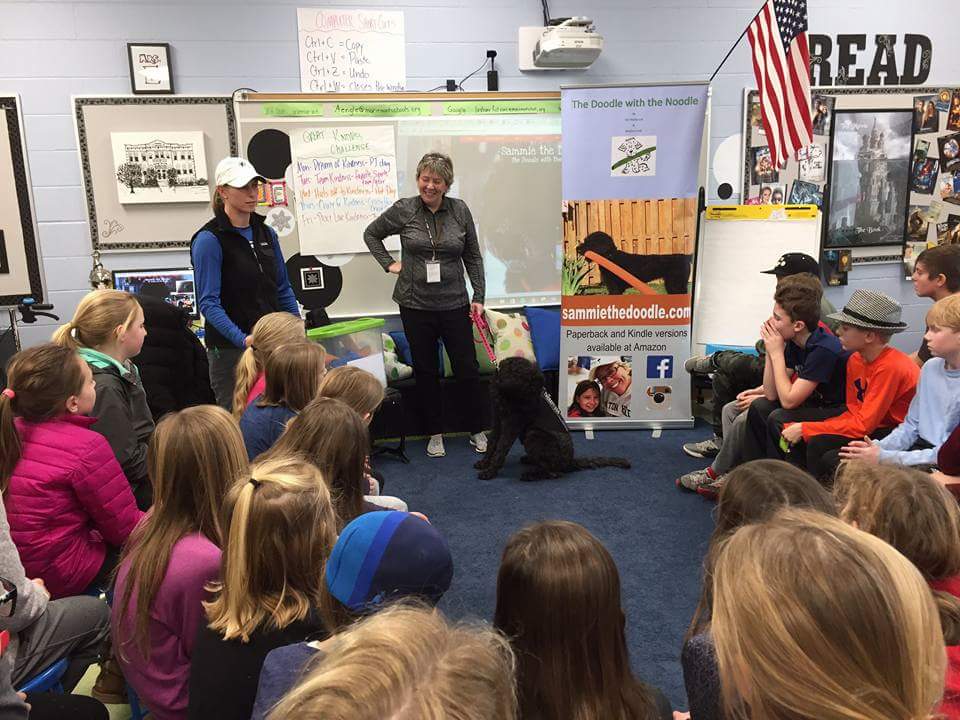 Sammie has brought new friendships into my life not because of anything I've done, but because of her willingness to approach each and every person she meets with gentle curiosity. As if she's inquiring, "Do you need some love?" A beautiful thing to witness really. She could care less about skin color, what someone is wearing, religious affiliation, what car they drive, if they have stinky feet or a pimple on their forehead, whether smiling or frowning, upbeat or beat up . . . she just wants to meet them and offer her support.
Filling a Personal Need to Give Back
I have this compelling need to give back to the world. I want to give out hope by the fistfuls, money in anonymous surprises, and time in a I-have-more-of-it-than-I-really-do way. Maybe because I grew up in home where money was always a problem. Or, I guess I should clarify, the LACK of money was always a problem. My dad struggled to keep a job and blew through my mom's paychecks with his latest "get rich quick" schemes. They never did pan out. Maybe because I spent the first forty-something years of my life struggling with heartache and trauma-related anxiety and panic disorders. And now I know peace. Maybe because I've battled my way through darkness and currently celebrate the light.
Working with Sammie as a volunteer therapy dog team truly makes my heart happy. I love the kids, the school staff, the giggles, the joy, the tail-wagging, and the love I witness transcending between souls. Beautiful on so many levels.
Offering hope to children through Sammie's gentle ways gives me a sense of creating change in a world where sadness and anger seem to be gaining traction. Maybe that's just social media. All I know is that having a sweet lady offer me hope as an eight-year-old second-grader changed my world. I still treasure the gift of that teacher. I'm hoping Sammie and I can offer that same gift to children. A pay it forward kinda thing.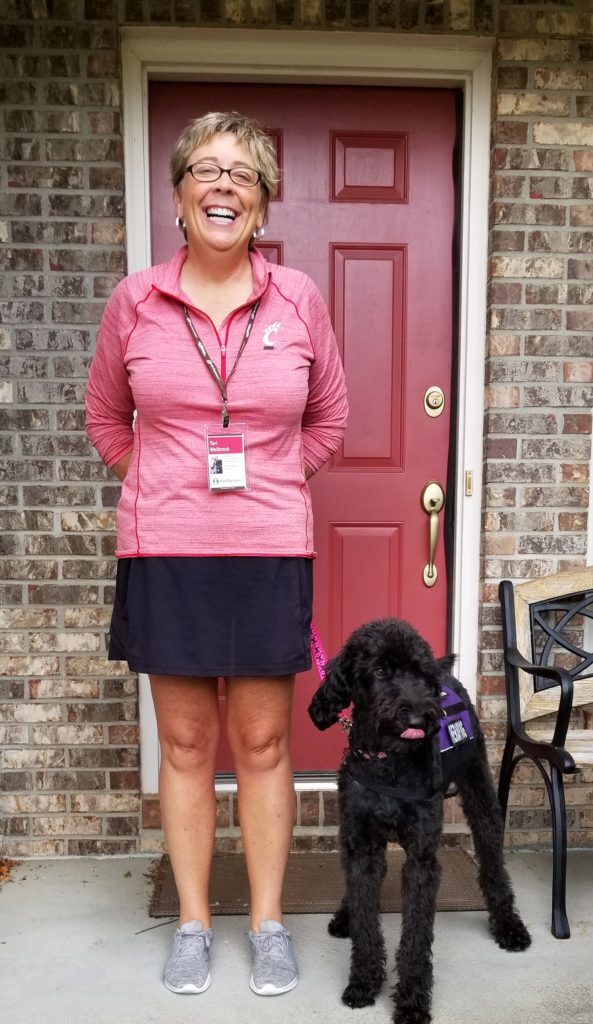 Brings Stardom
This dog is truly a rock star! We were hiking through Cincinnati Nature Center last year when someone stopped us on trail and asked, "Is that Sammie?" I laughed and responded with an enthusiastic YES. This person went on to explain, "I know her from the internet." I mean, seriously, rock star status, Sammie!
Sammie joins me on The Healing Place Podcast, as well. Not as a co-host. That's Max's job. He has his own chair and everything. Sammie just insists on being in the office with me when I record shows. She lays at my feet or snoozes in a corner. Every now and then she pops her head up to greet my guests. And whenever she does, the response is always the same. A huge smile appearing on my interviewee's face. Along with, "Oh, hello, Sammie!"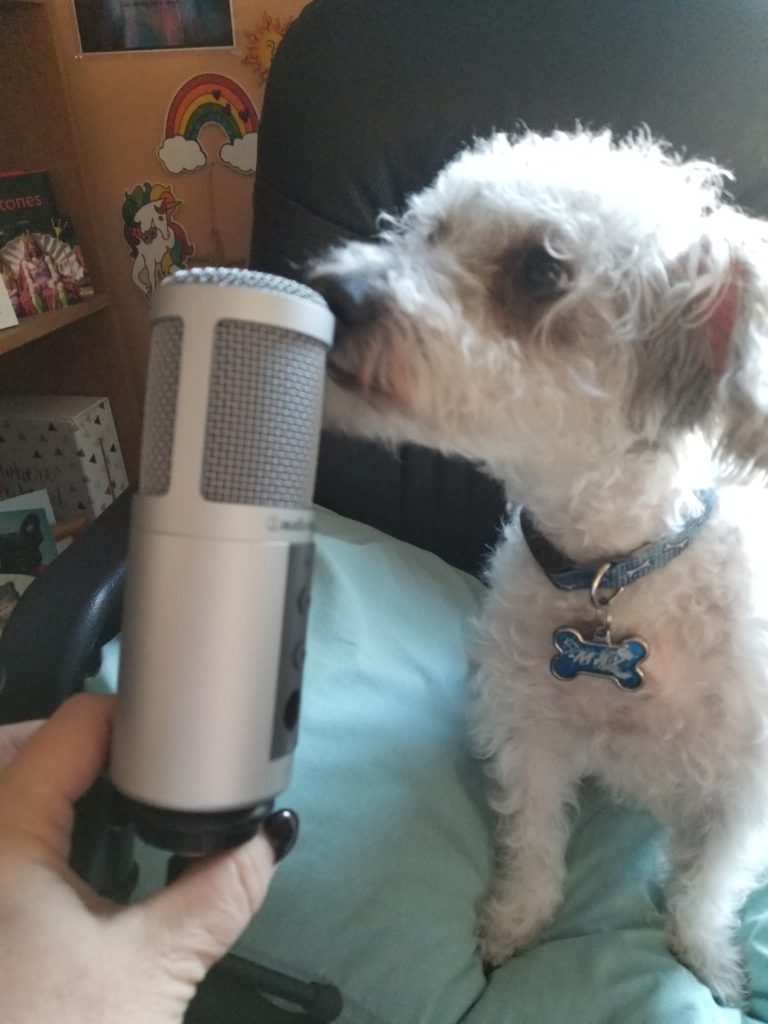 I love it that this sweet pup has a reputation in Cincinnati for offering love and support to children. We have a project called Sammie's Bundles of Hope. We fill bags with donated trinkets of hope (PlayDoh, journals, stress balls, bubbles, and more) and disperse them to children with trauma-history, anxiety struggles, recent loss, homelessness, etc. These bags represent everything Sammie. Relief from pain, fear, worry, stress . . . by focusing on something soothing.
This super-star dog even has a book written about her, The Doodle with the Noodle. My daughter and I wrote a book geared toward preschoolers a few years ago when my daughter was in fourth grade. We wrote, illustrated, and published it through Kindle Direct Publishing. And now we donate a copy in each Sammie Bundle of Hope we disperse.
Sammie has her own website, Facebook page, and Instagram page.
We love our sweet shooting star. To infinity and beyond.
Click on image below to read more!