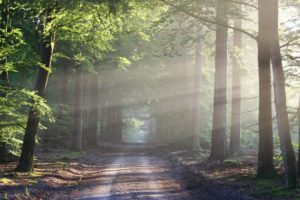 Following is an excerpt from my upcoming September newsletter. This month I cover: Step 3 in the Defining Resilience series – Utilize Self-Care Strategies; a video on anxiety and panic attack coping skills; information on EMDR therapy; and creating a safe space as a coping mechanism. I would love to have you (or anyone you know who could benefit from my insights) subscribe to this and future newsletters at 
Hope for Healing Newsletter
, as I work to grow my audience.
What is EMDR Therapy?
EMDR Therapy has been life-altering for me. In 2013 I experienced what I reference in my presentations as a "shift". I was struggling in a toxic relationship, trying to come to terms with my trauma history, and attempting to juggle various personal issues. It was within the confines of Dr. Barb Hensley's office, at Cincinnati Trauma Connection, where I finally confronted the dark spaces of my traumas and learned to process them, releasing the stored up energy which had been surfacing as severe panic attacks for the previous twenty-five years.
So, what is EMDR Therapy? EMDR is the acronym for Eye Movement Desensitization and Reprocessing. It was initially developed by Dr. Francine Shapiro as a method for helping soldiers, returning from war, combat their post-traumatic stress disorder (PTSD) symptoms. However, it has since been utilized to help hundreds of thousands of patients process traumatic experiences.
More information about the therapeutic technique can be found at the American Psychological Association's Clinical Practice Guideline for the Treatment of Post-Traumatic Stress Disorder.
My personal experience during sessions included the following:
Sometimes I would use a light bar in my therapist's office, keeping my head still and allowing my eyes to move back and forth, following a flowing green light stream from left to right and back again. Other times, I would close my eyes (as I was being distracted peripherally) and focus on the vibrating paddles I held in my hands. Those would alternate vibrations, left, right, left, right, left, right, and so on. My eye movements would naturally fall into a rhythmic back and forth movement, similar to the movement experienced during REM sleep.
While following the light bar or hand vibration pattern, I would be prompted to return to one of my traumatic experiences. The vast majority of the time something would instantaneously surface. A body memory. A flashback. A sensation. Something would appear. Sometimes it would be a snippet I had remembered outside of therapy, other times a memory would appear from an unconscious space. It would be filled with specifics I had long forgotten (such as the blue oval-shaped rug, sprawled across the floor next to my black metal-framed bunk beds, in my bedroom in our home in Park Hills, Kentucky- a memory from age four).
Sobbing, shaking, overwhelming emotions, and sometimes the symptoms of a panic attack would arise. The soothing voice of my counselor would be there to assure me that I was safe. It was there I would first learn to "just notice".
I became aware of my triggers and realized the body memories were there to help me instead of scare me. I started to look forward to the sessions so I could dive headfirst into the chaos in order to find more answers. There was light within the darkness.
We touched upon every known traumatic experience, sometimes returning to an event repeatedly as something would surface later down the road. At first these visits into the past were seen as if I was watching a movie, from a dissociated space. I was watching someone do horrific things to a little girl from outside of myself.
I knew the day I returned to a trauma and saw it happening from within my body, through my own eyes, that I had reached a place of healing. To feel safe within my body as I relived a moment of terror during an EMDR therapy session was truly empowering.
EMDR allowed me the opportunity to process a massively complex history of sexual, physical, and emotional abuse, neglect, exposure to violent crimes, and addiction in my family. I am now panic attack free. While I still experience heightened anxiety in certain situations, I am better equipped to calm my physiological responses, being mindful of my needs and triggers and the coping skills I can utilize to help myself overcome the fear.
Coming next month: What is PTSD?