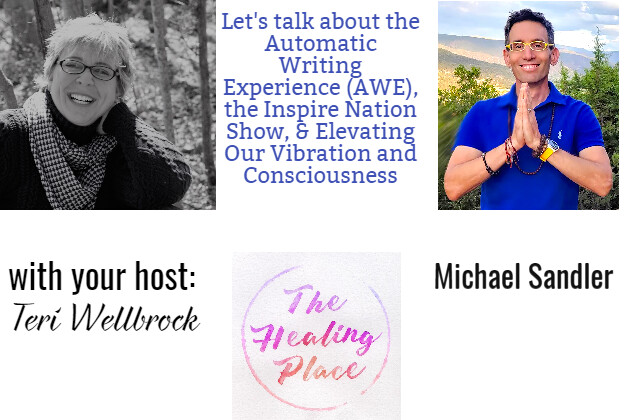 I feel oh-so-blessed to have had the opportunity to engage in an energetic, insightful, and hope-filled conversation with Michael Sandler, host of the Inspire Nation Show, best-selling author, speaker and entrepreneur. Please join as we discuss:
AWE: the Automatic Writing Process
his Inspire Nation Show
his THREE near-death experiences
raising our vibrations and elevating our consciousness
what is a hypnogogic state?
his message to all of you "shiny beacons of light"
and so much more!
Welcome to The Healing Place Podcast! I am your host, Teri Wellbrock. You can listen in on Pandora, iTunes, Blubrry, Spotify, Deezer, Google Podcasts, Amazon Music, Podbean, and more, or directly on my website at www.teriwellbrock.com/podcasts/. You can also watch our insightful interview on YouTube.
Bio:
"MICHAEL SANDLER is host of the Inspire Nation Show, a top-rated spiritual & self-help podcast and YouTube channel, unlike any other with over 20 million downloads, and over 145K YouTube viewers and growing. He's also a best-selling author, speaker, entrepreneur and co-creator of Inspire Nation University and the Automatic Writing Experience online course and has over 25 years experience as an Open Hearted Warrior life coach. His mission is to elevate consciousness and help people around the world shine bright. He's known for his affinity for the color yellow and his high-energy trademark "WOOHOO!"

Michael's been featured on NPR, BBC, CBS Early Morning Show (Chicago), ABC's Healthy Living, US Armed Forces Network, Martha Stewart Radio, and also in Health, Men's Health, Shape Magazine, Women's Health, Trail Runner, Running Times, Competitor, The Denver Post, and much more. He will also be featured in 2 upcoming documentaries directed by the award winning journalist, Bill Bennet."
Learn more about Michael and his mission at https://inspirenationshow.com/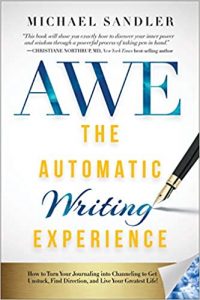 Here's what other spiritual authors have to say about Michael and the Automatic Writing Experience:
Michael is a powerhouse of information to change your life in ways that are emotional and physical, especially when you have been faced with any kind of hardship or struggle. His knowledge and tool chest is not just one thing, but many that have already brought peace, newfound strength and inspiration to the ones that need it the most.
–Anthony William, #1 New York Times best selling author and the originator of the global celery juice movement.
The Automatic Writing Experience demonstrates why Michael Sandler is one of today's most dynamic, hands-on, and meaningful voices in practical spirituality. Michael demonstrates how the method of automatic writing brought him back from the brink–and how it can deliver breakthroughs in your life. This book is a user's manual to your inner resources.
—Mitch Horowitz, author of The Miracle Club
Automatic writing is a powerful spiritual practice that supports your personal connection to the divine. With his infectious, loving and enthusiastic energy, Michael Sandler will have you in alignment receiving powerful messages through this transformative experience. This book is an essential guide.
—Kyle Gray, Bestselling author of Angel Prayers and Raise Your Vibration
Drawing on an ancient practice and the latest in deep mind techniques, Michael Sandler helps you plug into the power Source that can guide you to manifest the life of your dreams. If you want to live an on-fire, AWE filled life, then this book is for you.
—Dr. Joe Vitale, author of "Zero Limits"
Peace,
Teri
Hope for Healing Newsletter: https://us18.campaign-archive.com/?u=8265f971343b0f411b871aba1&id=1352bd63df
Book Launch Team: https://www.facebook.com/groups/unicornshadows/