Happy to have experienced another soul sister connection with Amy Erickson, director, film maker, trauma-survivor, social impact artist and communicator. Please join us as we discuss:
Amy's insights on transforming trauma through theatre
her philosophies on recovery, healing modalities, and attachment injuries
her personal journey through trauma
her film including her recently released Visceral: Transforming Trauma Through Theatre
and so much more!
Welcome to The Healing Place Podcast! I am your host, Teri Wellbrock. You can listen in on Pandora, iTunes, Blubrry, Spotify, iHeartRadio, Stitcher, Deezer, Google Podcasts, Amazon Music, and more, or directly on my website at www.teriwellbrock.com/podcasts/. You can also catch soundbites of our insightful interview on YouTube.
Bio:
"Director, Amy Erickson, grew up near Detroit in the 60s in a family of singers. This, along with the music of Motown and Burt Bacharach blaring on her kitchen radio helped her learn to sing by ear. She also loved to dance and stared working at age 13 to take jazz lessons. These, combined with her introduction to musical theatre as a child, nurtured Amy's love of the performing arts. But in her 20s, the singing and dancing stopped due to the impact of early-childhood trauma. The physical and emotional pain kept her shut down. Then, in her 40s, she found the courage to perform in a musical theatre production and rediscovered the vitality she felt in her youth. This proved to be the first step of healing from PTS. Amy was inspired to create Visceral after working with the Community Resilience Initiative in Walla Walla in 2010. She also is trained as a traumatic-stress responder by First Aid Arts, Seattle, WA.
In 2017, Amy received a WA state Artist Trust Grant for Artists' Projects for Visceral, and an Artist Residency at the Jack Straw Cultural Center, Seattle.
And yes, she still sings and dances! Since 2010 she's performed in six musical productions, continues to sing with a community choir, and takes musical theatre dance classes. For her, movement, voice, and social engagement through the performing arts continue to be life-giving forces."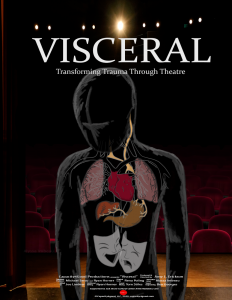 ** Visit Amy's website: https://www.capacity4good.com/
Teri
Hope for Healing Newsletter: https://us18.campaign-archive.com/?u=8265f971343b0f411b871aba1&id=1352bd63df
Book Launch Team: https://www.facebook.com/groups/unicornshadows