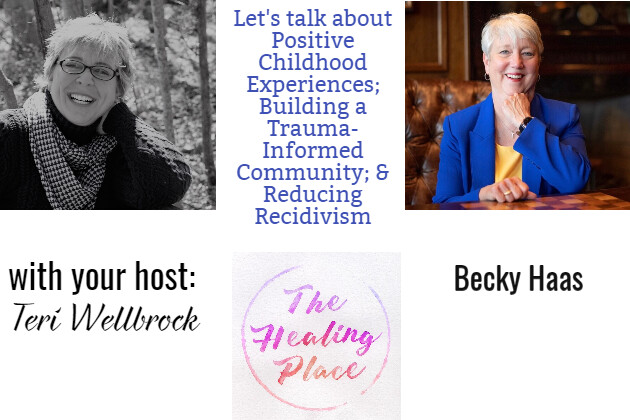 Ever so grateful to have had the pleasure of chatting with Becky Haas, author, speaker, and trainer, as she shares her wisdom on adverse childhood experiences and the impact of trauma on a community level. Please join us as we discuss:
Becky's pivotal role in developing and implementing trauma-informed strategies
defining PCEs (positive childhood experiences)
building trauma-informed communities
the critical need for reducing recidivism
and so much more!
Welcome to The Healing Place Podcast! I am your host, Teri Wellbrock. You can listen in on Pandora, iTunes, Blubrry, Spotify, Deezer, Google Podcasts, Podbean, and more, or directly on my website at www.teriwellbrock.com/podcasts/. You can also watch our insightful interview on YouTube.
Bio:
"Known for her contagious enthusiasm, Becky Haas is a seasoned presenter on the Adverse Childhood Experiences (ACEs) study and is nationally recognized for her pioneering work in developing a trauma informed region throughout Northeast Tennessee. Her seasoned presentation experience includes trips to Delaware presenting to state leadership at the invitation of their First Lady, as well as training Juvenile Justice systems in Virginia and Tennessee. She has developed training content for a diverse group of professional sectors including Trauma Informed Policing training which is certified in two states for officer in-service credit and she has delivered it to the Oklahoma City Police Department, as well as precincts within Tennessee, North Carolina, and Virginia. Currently she is working with the Tennessee Association of Chiefs of Police to implement a plan to make this training available to all members of law enforcement in Tennessee. Becky is a highly sought-out trainer for educators often working directly with school Superintendents to impact entire school districts in beginning their journey to create trauma sensitive schools.

She is experienced in working with city governments in several states providing leadership the tools to advance cities in becoming trauma informed. Since 2016, she has authored numerous articles in the global online publication ACEs Connection. In 2019 Becky co-authored the Building a Trauma Informed Community toolkit for the Tennessee Department of Children's Service which is also featured in the global online publication, ACEs Connection Growing Resilient Communities 2.1. Her work has also been published in John's Hopkins, Progress in Community Health Partnerships: Research, Education, and Action; and the Annals of Behavioral Medicine.

Becky served as the Trauma Informed Administrator for a regional healthcare system providing training development and delivery to healthcare staff in multiple hospitals as well as was instrumental in raising awareness of Adverse Childhood Experiences (ACEs) as a social determinant to poor health and addiction within rural Appalachia. Prior to working in healthcare, she was the Director of a grant-funded crime prevention program for the Johnson City Police Department which is credited for reducing drug related and violent crime in a historic crime neighborhood by 40% and creating a first probation program of its kind in Tennessee which now serves as a state model for reducing recidivism. She also assisted in strengthening relationships between police and community including culturally diverse populations which resulted in launching the first annual Martin Luther King, Jr. unity march in 2015. Under her leadership these crime prevention efforts were awarded the Outstanding Crime Prevention Program of the Year for the southern region by the National Criminal Justice Association in 2014 and are listed by the U.S. Department of Justice as a success story.

Becky earned a Professional Certification in Trauma and Resilience from Florida State University and has completed courses in Trust-Based Relational Intervention (TBIR) and Trauma Informed Classrooms from Texas Christian University. She has been certified as a trauma informed care trainer by the SAMHSA Gains Center and the Tennessee Building Strong Brains Program. She has been an active member of the Campaign for Trauma Informed Policy and Practice (CTIPP) since 2017 and is a member of the strategy team for the National Trauma Campaign. She has been an ordained minister since 1996 and completed ministerial training at Rhema Bible Training Center in Tulsa, Oklahoma in 1979. Becky has been the recipient of numerous personal awards including a regional Women's Tribute Award as a Transformational Woman in 2019. She was awarded the Anita Steiner Award from Goodwill Industries for implementing job skill training into the reentry community and was inducted into the Social Work Honor Society at King University for her above and beyond contributions which embody the heart and mission of the Social Work profession. Becky is married to Jonathan and their greatest joys in life are their two sons and their growing families."
Learn more about Becky and her mission at https://beckyhaas.com/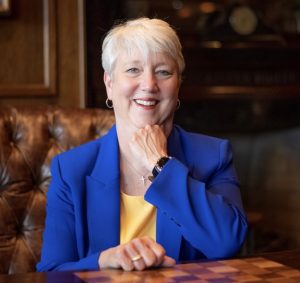 Peace to you all!
Teri
Hope for Healing Newsletter: https://us18.campaign-archive.com/?u=8265f971343b0f411b871aba1&id=1352bd63df
Book Launch Team: https://www.facebook.com/groups/unicornshadows/