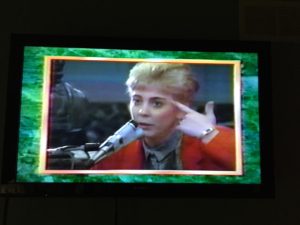 I normally avoid reading anything that might trigger a symptomatic C-PTSD response. Nothing violent, especially incidents involving guns. However, I felt compelled to read an article I found re-posted in my ACEs Connection community, titled:
This article, published in the Los Angeles Times, recounts the recent Trader Joe's murder scene from the eyes of those held hostage inside the store. I am sharing my "gut reaction" response to that article, as shared on the ACEs Connection post:
Wow. Tears streaming. I just had a conversation last night with friends over dinner about fight/flight/freeze responses in moments of terror. It came up as a topic as our dogs were recently attacked by another dog while hiking in a nature preserve and our friends chiming in about their dog being attacked while walking in our neighborhood. We all responded differently: I froze in terror, unable to move. Meanwhile, my partner sprung immediately into action and lifted our little dog above her head, using her body to shield and block our labradoodle, while screaming at the owner of the attacking animal to grab his. Of the other couple, the wife dove on her dog, trying to protect it. Her husband used violence to try to stop the attack. 
I have survived two armed bank robberies, both resulting in bloodshed, both perpetrated by the same gunmen (they were not caught after the first robbery of our branch office and returned three months later to rob our main office – I had just transferred from the branch to the main office). In both instances I came face-to-face with the assailants. Robbery one – held hostage with a gun to my left temple while watching my coworker bleed profusely from three stab wounds to his back. The second robbery – as a coworker was shot and murdered (by the same gunman and gun that had been held to my head only three months prior), I was hiding after fleeing the bank and heard approaching footsteps, running hard and fast, when I looked to my right, only to be staring down the barrel of a semi-automatic Luger. Fortunately, a K-9 unit was in hot pursuit, the Luger misfired, and my life was spared. Yet again.
Reading this story, something I normally do not do as I avoid anything that may trigger my C-PTSD symptoms, I was moved to tears. Not tears of fear or sadness. I sat staring at my computer screen, as those tears cascaded, and said out lout, "That was beautiful." 
The compassion shown by a hostage toward the gunman was truly magnificent. As I have come to a place of forgiveness for my transgressors (including both bank robbers/murderers), I realized I had no idea what had transpired in their lives. Had they been abused, neglected, terrorized in some way as children? Where had they turned away from innocence and started down a dark road of hopelessness? In a way, I connected with Moss, this calm and gentle soul, who grounded the gunman, connecting with him on a heart level. I have done that with my own gun-toting ghosts, in forgiving them. 
I froze in terror during those bank robberies/murder scenes. 
This woman, a hero in my eyes, did not fight or flee or freeze. She felt. She connected. She empathized. She calmed. She empowered. And in doing so, she saved lives. Including the life of a lost-soul gun-wielding perpetrator. 
Beautiful.