Such an inspiration-packed conversation with one of Australia's Top 50 Influential Female Entrepreneurs, Pauline Nguyen, spiritual entrepreneur, award-winning author, developmental coach, inspirational speaker, and co-founder of the world's most-awarded Vietnamese restaurants, The Red Lantern. Please join us as we discuss:
Pauline's insights on maximizing joy
her role as a developmental coach for creating inner peace
her philosophies on overcoming trauma
her role as a spiritual entrepreneur
and so much more!
Welcome to The Healing Place Podcast! I am your host, Teri Wellbrock. You can listen in on Pandora, iTunes, Blubrry, Spotify, iHeartRadio, Stitcher, Deezer, Google Podcasts, Amazon Music, and more, or directly on my website at www.teriwellbrock.com/podcasts/. You can also catch soundbites of our insightful interview on YouTube.
Bio:
"Pauline Nguyen's story is that of survival first. Escaping war-torn Vietnam as a toddler, Pauline eventually made it to Australian shores after a year in a Thai refugee camp. She went on to suffer tremendous physical and emotional abuse until she was a young woman.

It's this adversity that Pauline now refers to as her 'training' to have since become one of Australia's most sought after speakers. She is also the co-founder of the world's most awarded Vietnamese restaurant, Red Lantern.

She was named as one of 'Australia's Top 50 Influential Female Entrepreneurs', and one of the hand-selected '200 Women Who Will Change the Way You See the World. As Huffington Post puts it, Pauline is, "The most grounded spiritual entrepreneur on the planet"."
** Visit Pauline's website: https://www.paulinenguyen.com.au/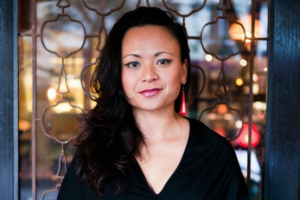 Peace,
Teri
Hope for Healing Newsletter: https://us18.campaign-archive.com/?u=8265f971343b0f411b871aba1&id=1352bd63df
Book Launch Team: https://www.facebook.com/groups/unicornshadows
AMAZON AFFILIATE
Teri Wellbrock and Unicorn Shadows are a participant in the Amazon Services LLC Associates Program, an affiliate advertising program designed to provide a means for sites to earn advertising fees by advertising and linking to Amazon.com. In other words, I make commission off of purchases made using any affiliate links on my site.