Thank you, Andrea Winkler, practice-based trainer and Duke Psychiatric Outpatient Clinic mental health assessment and psychotherapy provider, for joining me on the podcast to discuss:
her work with women in addiction recovery
trauma-informed philosophies
training and consultation services
trauma responses in the medical field
her personal journey into trauma-recovery work
and more!
Welcome to The Healing Place Podcast! I am your host, Teri Wellbrock. You can listen in on iTunes, Blubrry, Spotify, Deezer, Google Podcasts, Podbean, and more, or directly on my website at www.teriwellbrock.com/podcasts/. You can also watch our insightful interview on YouTube.
Bio:
"Andrea Winkler, MSW, LCSW, LCAS has emerged as an engaging and informative practice-based trainer. She maintains a full-time caseload at the Duke Psychiatric Outpatient Clinic where she provides mental health assessment and psychotherapy. Her passion for trauma and gender related issues began early in her academic experience at James Madison University, and continued throughout her MSW program at UNC Chapel Hill. Completion of UNC's Certificate in Substance Abuse Studies provided additional specialization in a population for whom trauma is a primary co-occurring feature. Andrea has developed training and consultation services that support the practical application of gender responsive substance use disorder treatment and trauma-informed care into medical, educational, intellectual/developmental disabilities, mental health, and substance use treatment fields."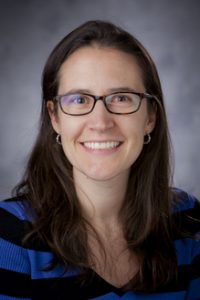 Learn more about Andrea and her mission at:
Andrea Winkler, LCSW, LCAS
Clinical Social Worker and Addictions Specialist
Duke AHEC Trainer and Consultant
919-660-0528 office [email protected]
LinkedIn Profile:
https://www.linkedin.com/in/andrea-winkler-lcsw-lcas-4221788/
Peace to you all!
Teri
Hope for Healing Newsletter: https://mailchi.mp/741bdf08d718/hope-for-healing-newsletter-may-2019
Book Launch Team: https://www.facebook.com/groups/unicornshadows/